A Drupal Planet screensaver for OSX
—
Many moons ago, I used Apple's Quartz Composer to create a screensaver for OSX, featuring our friend the Druplicon and the feed from Drupal Planet.
I thought it was about time I shared it.
If you're using Safari clicking on the download link below will load the saver giving you a live preview, alternatively here's a screenshot.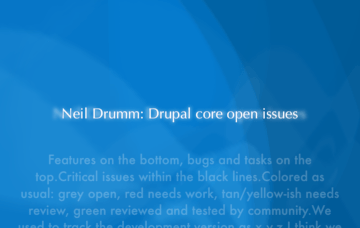 Installation
Download the attached file – those using Safari will have to right-click to download – and place it in your "~/Library/Screen Savers" or the main "/Library/Screen Savers" folder.
Roll your own
Since this screensaver is just a .qtz file you can open it with Quartz Composer (it comes with Apple's developer tools) and edit it yourself. IIRC it started out as one of the system screen savers Apple provided . Had I more time and talent I'd start from scratch and produce something more unique, but I'll leave that to someone with a better grasp of Quartz Composer's interface.
I suspect we may see some branded versions with custom feeds coming from Drupal shops with a penchant for shameless self-promotion ;)